CURRENT CONDITIONS
Current streamflow conditions in Minnesota.

View a detailed map.
DATA CENTER
USGS IN YOUR STATE
USGS Water Science Centers are located in each state.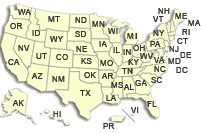 Minnesota Annual Report: 2002
By G.B. Mitton, K.G. Guttormson, G.W. Stratton, and E.S. Wakeman
Water-Data Report MN-02-1
Return to Water Resource Annual Data Reports web page
You can download this entire report [5.9 mb] in a printable format
Abstract
The Water Resources Discipline of the U.S. Geological Survey (USGS), in cooperation with State and Local agencies, obtains water resources data in Minnesota each year. Data for the 2002 water year includes records of stage, discharge, ground-water levels, and water quality of streams and groundwater wells. Included are 101 stream-gaging stations; stage for 11 lakes and reservoirs; water quality for 6 stream-gaging stations; peak flow data for 89 high-flow partial-record stations; and water levels for 3 groundwater wells.
---
TITLE PAGE
PREFACE
DOCUMENTATION
DISCONTINUED SURFACE-WATER DISCHARGE OR STAGE-ONLY STATIONS
INTRODUCTION
BIBLIOGRAPHY
SURFACE WATER STATIONS:
St. Lawrence River Basin
Streams Tributary to Lake Superior
04010500 Pigeon River at Middle Falls, near Grand Portage
04015330 Knife River near Two Harbors
04024000 St. Louis River at Scanlon
04024098 Deer Creek near Holyoke
Hudson Bay Basin
Red River of the North Basin
05030500 Otter Tail River near Elizabeth
05046000 Otter Tail River below Orwell Dam, near Fergus Falls
05049995 Mud Lake above White Rock Dam near White Rock, SD
05050000 Bois de Sioux River near White Rock, SD
05051300 Bois de Sioux River near Doran
05051500 Red River of the North at Wahpeton, ND
05051522 Red River of the North at Hickson, ND
05054000 Red River of the North at Fargo, ND
05061000 Buffalo River near Hawley
05061500 South Branch Buffalo River at Sabin
05062000 Buffalo River near Dilworth
05062500 Wild Rice River at Twin Valley
05064000 Wild Rice River at Hendrum
05064500 Red River of the North at Halstad
05067500 Marsh River near Shelly
05069000 Sand Hill River at Climax
05073500 Upper Red Lake at Waskish
05073650 Lower Red Lake at Battle River mouth near Saum
05074000 Lower Red Lake near Red Lake
05074500 Red Lake River near Red Lake
05075000 Red Lake River at High Landing, near Goodridge
05076000 Thief River near Thief River Falls
05078000 Clearwater River at Plummer
05078230 Lost River at Oklee
05078500 Clearwater River at Red Lake Falls
05079000 Red Lake River at Crookston
05080000 Red Lake River at Fisher
05082500 Red River of the North at Grand Forks, ND
05087500 Middle River at Argyle
05092000 Red River of the North at Drayton, ND
05094000 South Branch Two Rivers at Lake Bronson
05104500 Roseau River below South Fork near Malung
05106000 Sprague Creek near Sprague, Manitoba
05107500 Roseau River at Ross
05112000 Roseau River below State Ditch 51, near Caribou
Rainy River Basin
05124480 Kawishiwi River near Ely
05127000 Kawishiwi River near Winton
05127500 Basswood River near Winton
05128000 Namakan River at outlet of Lac la Croix, Ontario
05129115 Vermilion River near Crane Lake
05129290 Gold Portage Outlet from Kabetogama Lake near Ray
05129400 Rainy Lake near Fort Frances, Ontario
05130500 Sturgeon River near Chisholm
05131448 Wood Duck Creek near Nett Lake
05131450 Nett Lake at Nett Lake
05131455 Nett Lake River near Nett Lake
05131500 Little Fork River at Littlefork
05132000 Big Fork River at Big Falls
05133500 Rainy River at Manitou Rapids
05140520 Lake of the Woods at Warroad
05140521 Lake of the Woods at Springsteel Island near Warroad
Upper Mississippi River Basin
Upper Mississippi River Main Stem
05200510 Mississippi River near Bemidji
05211000 Mississippi River at Grand Rapids
05227500 Mississippi River at Aitkin
05242300 Mississippi River at Brainerd
05243725 Straight River near Park Rapids
05244000 Crow Wing River at Nimrod
05245100 Long Prairie River at Long Prairie
05247500 Crow Wing River near Pillager
05261000 Mississippi River near Fort Ripley
05267000 Mississippi River near Royalton
05270500 Sauk River near St. Cloud
05270700 Mississippi River at St. Cloud
05275000 Elk River near Big Lake
05280000 Crow River at Rockford
05284000 Mille Lacs Lake (head of Rum River) at Cove Bay near Onamia
05286000 Rum River near St. Francis
05287890 Elm Creek near Champlin
05288500 Mississippi River near Anoka
05288705 Shingle Creek at Queen Ave. in Minneapolis
Minnesota River Basin
05290000 Little Minnesota River (head of Minnesota River) near Peever, SD
05291000 Whetstone River near Big Stone City, SD
05292000 Minnesota River at Ortonville
05292704 North Fork Yellow Bank River near Odessa
05299650 Lac qui Parle River near Providence
05299800 West Branch Lac qui Parle River at Dawson
05300000 Lac qui Parle River near Providence
05301000 Minnesota River near Lac qui Parle
05304500 Chippewa River near Milan
05311000 Minnesota River at Montevideo
05313500 Yellow Medicine river near Granite Falls
05315000 Redwood River near Marshall
05316500 Redwood River near Redwood Falls
05317000 Cottonwood River near New Ulm
05317200 Little Cottonwood River near Courtland
05319500 Watonwan River near Garden City
05320000 Blue Earth River near Rapidan
05320270 Little Cobb River near Beauford
05320500 Le Sueur River near Rapidan
05325000 Minnesota River at Mankato
05327000 High Island Creek near Henderson
05330000 Minnesota River near Jordan
Upper Mississippi River Main Stem
05331000 Mississippi River at St. Paul
05331580 Mississippi River below Lock and Dam 2, at Hastings
St. Croix River Basin
05336700 Kettle River below Sandstone
05337400 Knife River near Mora
05338500 Snake River near Pine City
05340500 St. Croix River at St. Croix Falls, WI
Upper Mississippi River Main Stem

05344500 Mississippi River at Prescott, WI
05344850 Sturgeon Lake, West Side, at Prairie Island
05345000 Vermillion River near Empire
05346050 Clear Lake, East Side, at Prairie Island
05353800 Straight River near Faribault
05355200 Cannon River at Welch
05372995 South Fork Zumbro River at Rochester
05378500 Mississippi River at Winona
05457000 Cedar River near Austin
05476000 Des Moines River at Jackson

Top

Return to Water Resource Annual Data Reports web page