Water Resources of Minnesota
Welcome to the USGS Minnesota Water Science Center. These pages are your source for water-resource information collected and interpreted by the U.S. Geological Survey in Minnesota.


Minnesota Water Science Center activities include:
Presentation of real-time streamflow, water-quality, ground-water levels data.
Operation and oversight of an extensive network of water-resource monitoring sites.
Archive of water-resource information collected for more than 100 years.
Data collection and investigative studies related to issues of concern to water-management entities and citizens.
Publishing data and topical reports.
---
Quick Link to Real-Time Data:
View site list:
SW
|
GW
|
WQ
Minnesota Water Science Center Activity on Twitter
Minnesota Monitoring Networks
The USGS Minnesota Water Science Center continuously monitors surface water, ground water, and water quality parameters across the state. Monitoring sites are operated in cooperation with various local, State, or Federal agencies.

Minnesota provides real-time water-stage, streamflow and precipitation data at 149 sites across the state.

33 ground-water wells are monitored by the USGS in Minnesota. These wells record data on hourly intervals.

Water-quality conditions are continuously monitored by the USGS at 11 sites across the state of Minnesota
View the Google Map developed by the NWIS team that displays all Minnesota Surface-Water sites, Groundwater sites, and more.
Featured Publication
Floods of June 2012 in Northeastern Minnesota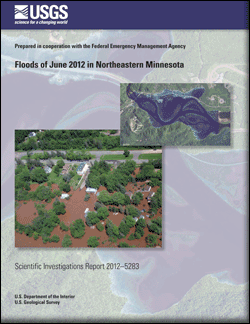 This report documents the magnitude and extent of flooding in northeastern Minnesota following heavy rainfall during June 19-20, 2012. Widespread flash and river flooding caused evacuations of residents, and damages to residences, businesses, and infrastructure. Peak-of-record streamflows were recorded at 13 of 35 U.S. Geological Survey streamgages in the nine counties in northeastern Minnesota with disaster declarations due to the flooding. Flood-peak streamflows in June 2012 had annual exceedance probabilities estimated to be less than 0.002 (0.2 percent; recurrence interval greater than 500 years) for five streamgages, and between 0.002 and 0.01 (1 percent; recurrence interval greater than 100 years) for four streamgages. High-water marks were collected to represent the flood-peak water-surface profile within the most severely affected communities of Barnum (Moose Horn River), Carlton (Otter Creek), Duluth Heights neighborhood of Duluth (Miller Creek), Fond du Lac neighborhood of Duluth (St. Louis River), Moose Lake (Moose Horn River and Moosehead Lake), and Thomson (Thomson Reservoir outflow near the St. Louis River). Flood-peak inundation maps were constructed in a geographic information system by combining high-water-mark data with high-resolution digital elevation model data. The flood maps and profiles show the extent and depth of flooding through the communities and can be used for flood response and recovery efforts by local, county, State, and Federal agencies.
Full Report
Data via GoogleMaps
New Maps Deliver Current Streamflow Conditions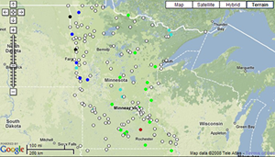 We added a Google-Map based Web page to deliver map-based current surface-water resources conditions in Minnesota.
The maps utilize zoom and pan to allow you to focus in on the water-monitoring sites that interest you. The maps show current streamflow as compared to historical records. By hovering your mouse over a site, a popup box shows the most recent stage and streamflow.
News from the MN WSC
MN Water Science Center Awarded Best Groundwater Report of 2016
Perry Jones and co-authors were recognized for the Best Groundwater Report of 2016, for the report Statistical analysis of lake levels and field study of groundwater and surface-water exchanges in the northeast Twin Cities Metropolitan Area, Minnesota, 2002 through 2015. The award, given annually within USGS to one of the hundreds of groundwater reports published each year, recognizes excellence in scientists and authors in Water Science Centers who produce the highest-quality groundwater reports.
This award-winning report is the second in a series of three USGS reports documenting groundwater and surface-water interactions in and around White Bear Lake, Minnesota. The study used a combination of innovative and novel field and statistical methods to identify and describe critical groundwater/surface water interactions in the northeast Metro region and in White Bear Lake. The results of this body of work are being used by stakeholders for important water resources decision-making. The Metropolitan Council and Minnesota Department of Health were cooperators on this project.
---
New USGS Report published
The physical setting of lakes, which includes underlying geology, elevation and surrounding land use, is the most significant driver of lake-level changes in the Twin Cities, according to a new study published by the U.S. Geological Survey.
Scientists with the USGS analyzed 96 lakes in the northeast metropolitan area of Minneapolis and Saint Paul, Minnesota, to determine why water levels recently declined in some, including White Bear Lake, yet increased in others. They found that not all lakes in the area respond similarly to weather and groundwater pumping, and White Bear Lake is especially sensitive to lake-level changes because of its unique deep-water seepage to lower aquifers.
"Water-level changes in White Bear Lake have been the largest of the northeast metro lakes monitored since 1925," said Perry Jones, a USGS scientist and lead author of the report. "Our study showed that water is flowing out of the lake at deeper depths, and this may be contributing to larger water-level changes."
The scientists studied lake levels during short-term (2002-2010) and long-term (1925-2014) periods, and compared them to landscape and geologic characteristics, climatic factors and local groundwater withdrawals. The study found that:
Closed-basin lakes, or those lacking an outlet like White Bear Lake, had more significant lake-level declines than flow-through lakes with an outlet;
When closed-basin lake levels increased or decreased, groundwater levels reflected those changes; Water levels in flow-through lakes varied more when annual precipitation fluctuated;
Lake-level declines were larger in higher-elevation areas; and
The installation of water-flow control structures, such as culverts and weirs, helped moderate multiyear lake-level changes.
The study also showed that groundwater enters White Bear Lake from shallow sites near the shore, and leaves from deep-water sites at the bottom of the lake. When water flows out from these deep sites, it flows into aquifers beneath White Bear Lake. These deep-water outflows are uncommon in Minnesota lakes, and make the lake uniquely sensitive to water-level declines.
The USGS partnered with the Metropolitan Council and the Minnesota Department of Health on the new study.
James R. Stark, Director
---
Arsenic Project in the News
Minnesota Public Radio went in-depth reporting on an ongoing study investigating arsenic in wells. The study is a collaboration between the Minnesota Department of Health and the U.S. Geological Survey.

Full Story and Audio
---
New Journal Article Published
The USGS is pleased to announce the release of a new article in the Journal of Environmental Quality documenting the effects of agricultural land retirement on stream-sediment sources. Documenting these effects is important for identifying management practices that improve water quality and aquatic habitat. Many conservation easements are discontinuous along channelized streams and ditches throughout the agricultural Midwestern United States-these areas of discontinuous conservation easements were a focus of this article. Channel-bed and suspended sediment were sampled at nine locations and compared with local source samples by using linear discriminant analysis and a four-source mixing model that evaluated seven tracers: In, P, total C, Be, Tl, Th, and Ti. Isotopic and elemental concentrations in the sources and stream varied with land retirement distribution along tributaries of West Fork Beaver Creek in Minnesota. The proportion of sediment sources differed significantly between suspended and channel-bed sediment. Retired land contributed to channel-bed sediment but was not discernible as a source of suspended sediment, suggesting that retired-land material was not mobilized during high-flow conditions. Stream banks were a large contributor to suspended sediment, but this was less evident in basins with more continuous retired land along the riparian corridor. Along stream reaches with retired land, there was a lower proportion of cropland material in suspended sediment relative to sites that had almost no land retirement, indicating less movement of nutrients and sediment from cropland to the channel as a result of land retirement. For more information contact Tanja Williamson,
tnwillia@usgs.gov
or Victoria Christensen,
vglenn@usgs.gov
Full Article
---
New Paper on Mercury Trends in Northern Minnesota
The U.S. Geological Survey and collaborators are pleased to announce publication of a new paper on mercury trends in northern Minnesota. Key findings from this study: Wet deposition of mercury decreased considerably in northern Minnesota from 1998-2012. Wet deposition of sulfate and hydrogen ion-also important in the aquatic mercury cycle-also decreased during the same period. Consistent with decreases in these atmospheric pollutants, two of four study lakes in Voyageurs National Park also showed considerable decreases in methylmercury in water and year-old perch. However, in a third lake, methylmercury levels increased in water and fish; a fourth lake showed no consistent trend.
Full Report
Selected News Coverage:
Duluth News Tribune | MinnPost Article | USGS Newsroom
---
Longtime USGS Bemidji Oil Spill Research Site Featured on Minnesota Public Radio
Minnesota Public Radio aired a story featuring USGS research that has been conducted over the past 35 years at the location of the Bemidji oil spill.
At an old Minnesota oil spill site, scientists discover oil-eating microbes
---
"Where is the water in White Bear Lake?" - The story and history of White Bear Lake
---