Chemicals of Emerging Concern in Minnesota Water Resources - Distribution, Fate, and Effects
USGS, State Agency, and University scientists have documented the presence of commonly used organic chemicals in streams, lakes, waste-waters, and groundwater in Minnesota. These chemicals include ones we use and consume commonly in our daily lives in products such as human-use and veterinary pharmaceuticals, fragrances, surfactants, plastic components, and fire retardants. The chemicals are often called 'chemicals of emerging environmental concern' because the risk to human health and the environment may not be known. These newly recognized contaminants represent a shift in traditional thinking as many are produced industrially yet are dispersed to the environment from domestic uses. Find out about studies undertaken by the USGS Minnesota Water Science Center to understand more about the presence and fate of these chemicals in in the environment and some of their potential effects on aquatic organisms in streams and lakes in Minnesota.
Related Studies in Minnesota
Current Projects
Past Projects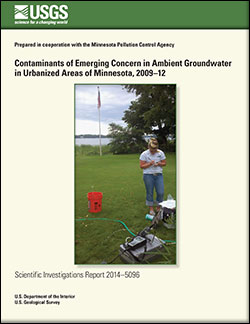 Contaminants of Emerging Concern in Ambient Groundwater in Urbanized Areas of Minnesota, 2009-12
A study of contaminants of emerging concern (CECs) in ambient groundwater in urbanized areas of Minnesota.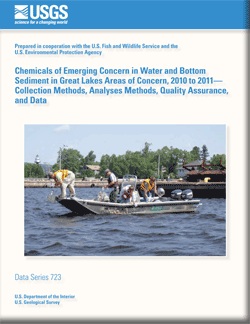 Chemicals of Emerging Concern in Water and Bottom Sediment in Great Lakes Areas of Concern, 2010 to 2011-Collection Methods, Analyses Methods, Quality Assurance, and Data
The U.S. Geological Survey (USGS) cooperated with the U.S. Environmental Protection Agency and the U.S. Fish and Wildlife Service on a study to identify the occurrence of chemicals of emerging concern (CECs) in water and bottom-sediment samples collected during 2010-11 at sites in seven areas of concern (AOCs) throughout the Great Lakes. Study sites include tributaries to the Great Lakes in AOCs located near Duluth, Minn.; Green Bay, Wis.; Roches­ter, N.Y.; Detroit, Mich.; Toledo, Ohio; Milwaukee, Wis.; and Ashtabula, Ohio. This report documents the collection meth­ods, analyses methods, quality-assurance data and analyses, and provides the data for this study.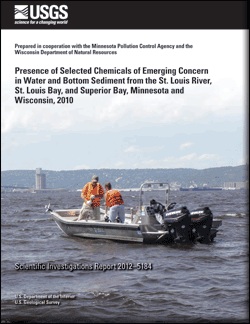 Presence of Selected Chemicals of Emerging Concern in Water and Bottom Sediment from the St. Louis River, St. Louis Bay, and Superior Bay, Minnesota and Wisconsin, 2010
The US Geological Survey, Minnesota Pollution Control Agency, and Wisconsin Department of Natural Resources complete study to identify the occurrence of contaminants of concern in water and bottom sediment in the St. Louis Bay. The lower St. Louis Bay between Duluth, Minnesota and Superior, Wisconsin receives substantial urban runoff, wastewater treatment plant effluent, and industrial effluent-leading to its designation as a "Great Lakes Area of Concern" by the International Joint Commission. Concerns exist about the potential effects of certain chemicals on aquatic biota because many of these chemicals have been shown to have detrimental effects on fish and other aquatic life. These chemicals are called Chemicals of Emerging Concern and may be toxic or pose some health risk to living organisms. These chemicals include pharmaceuticals, hormones, and other organic chemicals-some of which may cause endocrine disruption.

Organic Wastewater Contaminants in Minnesota Water Resources
Presence of endocrine active chemicals and other organic chemicals in surface, ground, drinking, and waste water.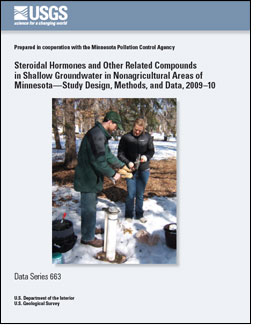 Full Report on endocrine active compounds in Minnesota groundwater
Steroidal Hormones and Other Related Compounds in Shallow Groundwater in Nonagricultural Areas of Minnesota-Study Design, Methods, and Data, 2009-10

Wastewater Exposure Experiments
On-site experiments at major wastewater treatment plant exposing fish to treated wastewater.

Fate and Effects of Alkylphenols
Integrated chemical and biological study to identify endocrine active compounds and biological responses.

Occurence of Endocrine Active Compounds and Biological Responses in the Mississippi River
Integrated chemical and biological study of endocrine active chemicals and biological responses at 43 sites on the Mississippi River.

Occurrence of Endocrine Active Chemicals in Minnesota Lakes
Endocrine active chemicals were found in the bottom sediments and water in Minnesota lakes.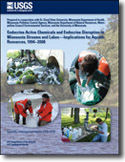 Summary of endocrine-active chemicals and biological responses in Minnesota
Endocrine active chemicals and endocrine disruption were detected in Minnesota aquatic resources.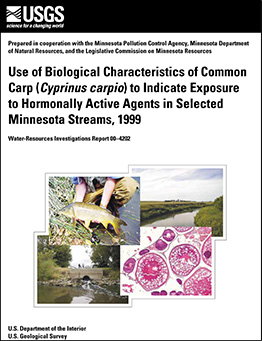 Endocrine Disruption in Common Carp
Presence of endocrine disruption in wild-caught common carp in Minnesota streams.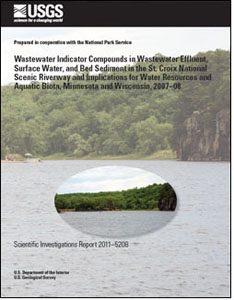 Full Report on Waste Water Treatment Plants in St. Croix Falls, WI and Taylors Falls, MN
Wastewater Indicator Compounds in Wastewater Effluent, Surface Water, and Bed Sediment in the St. Croix National Scenic Riverway and Implications for Water Resources and Aquatic Biota, Minnesota and Wisconsin, 2007-08
Endocrine Active Chemicals and Pharmaceuticals in Wastewaters and Recieving Streams.
Endocrine Active Chemicals and pharmaceuticals were determined in the effluent and receiving streams at 24 treatment plants in Minnesota.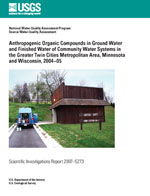 Anthropogenic Organic Compounds in Ground Water and Finished Water of Community Water Systems in the Greater Twin Cities Metropolitan Area, Minnesota and Wisconsin, 2004-05
Related National Studies

USGS Toxic Substances Hydrology Program
Provides objective scientific information to improve characterization and management of contaminated sites, to protect human and environmental health, and to reduce future contamination.