Wastewater Exposure Experiments
U.S. Geological Survey and St. Cloud State University conducted on-site, continuous-flow experiments during August and October 2002 at a major metropolitan wastewater treatment plant (WWTP) in Minnesota to determine if effluent exposure induced endocrine disruption in sexually mature male fathead minnows (Pimephales promelas). Fathead minnows were exposed during two during two separate time periods (August and October 2007) in parallel experiments to WWTP effluent and WWTP effluent treated with XAD8 macroreticular resin to remove the hydrophobic-neutral fraction which contained steroidal hormones, alkylphenolethoxylates (APEs), and other potential endocrine disrupting compounds (EDCs).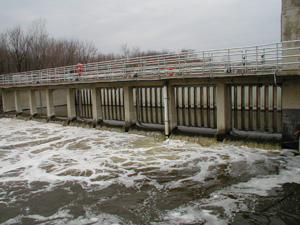 Wastewater discharged from a WWTP was continuously pumped through the aquariums for 28 days. This design allowed the fish to be exposed to the normal day-to-day changes in the complex mixture of chemicals contained in wastewater. Parallel experiments were conducted at the St. Cloud State University Aquatic Toxicology Laboratory exposing fish to groundwater with a mixture of alkylphenols added to it , groundwater with 17β-estradiol added to it (positive control), and groundwater with nothing added (negative control).
Treated wastewater discharge has been identified as a source of endocrine active chemicals to the aquatic environment, and this study documents some of the potential effects, both positive and negative, in fish due to exposure to wastewater. The effluent composition varied on a temporal scale and the continuous-flow experiments captured the range of chemical variability that occurred during normal WWTP operations. Several chemicals known to be potential endocrine active chemicals were found, such as alkylphenols, bisphenol A, and hormones. Concentrations of endocrine disrupting chemicals were greater in October than in August, reflecting a change in effluent composition. During both experiments, XAD8 treatment removed greater than 90% of the alkylphenols.

Exposure to WWTP effluent resulted in vitellogenin (a precursor protein in egg development normally found in female fish) induction in male fathead minnows, with greater response in October than in August. In the October experiment, XAD8 treatment significantly reduced vitellogenin induction in the male fathead minnows relative to the untreated effluent, whereas in August, XAD8 treatment had little effect. In contrast to expectations, the GSI and SSCI increased in males exposed to WWTP effluent compared to groundwater controls.
This study increases the scientific communities' understanding of the potential effects of wastewater on fish in streams, and this information can be use to make better decisions regarding the discharge of wastewater to the environment. In some cases, beneficial effects (such as increased gonadosomatic index - the ratio between gonad weight and body weight - a sign of healthy growth) were observed along with detrimental effects (such as male minnows producing vitellogenin).
Barber, L.B., Lee, K.E., Swackhamer, D.L., Schoenfuss, H.L., 2007, Reproductive responses of male fathead minnows exposed to wastewater treatment plant effluent, effluent treated with XAD8 resin, and an environmentally relevant mixture of alkylphenol compounds: Aquatic Toxicology, v. 82, no. 1, p. 36-46, doi: doi:10.1016/j.aquatox.2007.01.003.