National Crude Oil Spill Fate and Natural Attenuation Research Site near Bemidji, Minnesota, USA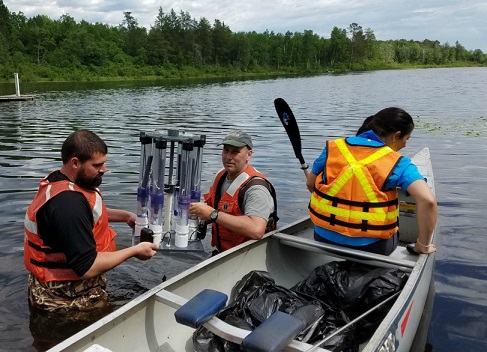 Scientists deploying a device to collect pore-water samples from different depths in lake sediments.
The objective of the project is to improve the understanding of the mobilization, transport, and fate of crude oil in the shallow subsurface. The U.S. Geological Survey Toxic Substances Hydrology Program began an interdisciplinary research project in 1983 at the site of a crude-oil spill near Bemidji, Minnesota. The Site is now one of the best-studied subsurface oil spill sites in the world. The Bemidji research team comprises scientists from the USGS, private industry, academic institutions, and regulatory agencies. Nearly 300 publications have been produced from data collected at this site but a comprehensive bibliography is not currently available because it is being migrated to a new web platform. A fact sheet provides a general overview of the site.
The spill occurred in 1979 when a pipeline transporting crude oil broke. After cleanup efforts were completed in 1980, about 400,000 liters of oil remained in the unsaturated zone and near the water table. This continues to be a source of contaminants to a shallow outwash aquifer. The oil is moving as a separate fluid phase, as dissolved petroleum constituents in ground water, and as vapors in the unsaturated zone. Native microbes are converting the petroleum derivatives into carbon dioxide, methane, and other biodegradation products.
A new web page describing the National Crude Oil Spill Fate and Natural Attenuation Research Site near Bemidji, Minnesota, USA is being developed but most of the information on this page is still up to date. If you would like to learn more about research at the site, please contact the research coordinator, Barbara Bekins, or the site coordinator, Jared Trost
The U.S. Geological Survey Minnesota Water Science Center, in collaboration with Enbridge Energy Limited Partnership, Beltrami County, and the Minnesota Pollution Control Agency, is soliciting proposals for projects to be conducted after June 1, 2022, at the National Crude Oil Spill Fate and Natural Attenuation Research Site (Site), located northeast of Bemidji in Beltrami County, Minnesota. Research proposals for new projects led by academic institutions or private industry are especially encouraged, though proposals for continuation studies will also be considered. In considering research proposals, you are encouraged to consult with industry, academic and trade organizations as well as review previous research that has been conducted at the site. Total funding available in 2022 is $25,000 and proposals up to $15,000 will be considered; typically, research grants may be provided in the $2,000 - $5,000 range. Proposals may be for projects 1 to 2 years in duration, or for longer term projects that can leverage the available infrastructure and resources at the site. Proposals are due by January 24, 2022. For more information contact Jared Trost, Site Manager, at jtrost@usgs.gov. Download proposal instructions and template