National Crude Oil Spill Fate and Natural Attenuation Research Site near Bemidji, Minnesota, USA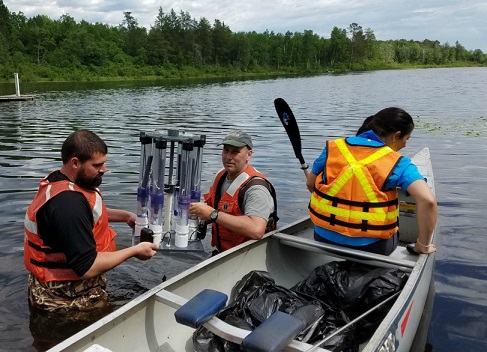 Scientists deploying a device to collect pore-water samples from different depths in lake sediments.
The objective of the project is to improve the understanding of the mobilization, transport, and fate of crude oil in the shallow subsurface. The U.S. Geological Survey Toxic Substances Hydrology Program began an interdisciplinary research project in 1983 at the site of a crude-oil spill near Bemidji, Minnesota. Research is conducted within four broad disciplines by scientists from the U.S. Geological Survey and from several academic institutions. Currently, about 10 research projects are active. A fact sheet describing results from the Bemidji Toxics project is available.
The spill occurred in 1979 when a pipeline transporting crude oil broke. After cleanup efforts were completed in 1980, about 400,000 liters of oil remained in the unsaturated zone and near the water table. This continues to be a source of contaminants to a shallow outwash aquifer. The oil is moving as a separate fluid phase, as dissolved petroleum constituents in ground water, and as vapors in the unsaturated zone. Native microbes are converting the petroleum derivatives into carbon dioxide, methane, and other biodegradation products.
Bemidji Project in the news - 2016
Crude Oil Byproducts in Groundwater Plumes - USGS Press Release.

U.S. Geological Survey Identifies Crude-Oil Metabolites in Subsurface Plumes - USGS GeoHealth Newsletter

These press releases refer to this article:

Bekins, B.A., Cozzarelli, I.M., Erickson, M.L., Steenson, R.A., and Thorn, K.A., 2016, Crude oil metabolites in groundwater at two spill sites: Groundwater, doi:10.1111/gwat.12419 (Advanced Web release).
Bemidji Project in the news - 2015
Natural Breakdown of Petroleum Underground Can Lace Arsenic into Groundwater - USGS Press Release. This press release refers to this article:
Cozzarelli, IM; Schreiber, ME; Erickson, ML; and Ziegler, BA. "Arsenic cycling in hydrocarbon plumes: Secondary effects of natural attenuation," Groundwater, 21 Jan 2015.
Bemidji Project in the news - 2014
In Bemidji, a research site reveals secrets of an oil spill - Star Tribune
At an old Minnesota oil spill site, scientists discover oil-eating microbes - Minnesota Public Radio
2012 Symposium
Monday, June 11, 2012, was the date of a symposium titled "Terrestrial crude oil spills: decades of science from the Bemidji, Minnesota Research Site." The symposium focused on sharing research results from the National Crude Oil Spill Fate and Natural Attenuation Site, Bemidji, Minnesota, and was held at the University of St. Thomas, St. Paul campus. The symposium was followed by a site tour on June 12. The symposium hosts were the U.S. Geological Survey, Minnesota Pollution Control Agency, Enbridge Energy Limited Partnership, and Beltrami County, with financial sponsorship from the American Petroleum Institute.

Symposium Program | Symposium Brochure