Minnesota Water Science Center Publications
Water Data Reports (WDR)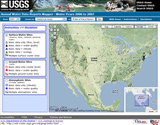 A series of annual reports that document hydrologic data gathered from the U.S. Geological Survey's and cooperating agencies' surface- and ground-water data-collection networks in each State, Puerto Rico, and the Trust Territories. These records of streamflow, ground-water levels, and water quality provide the hydrologic information needed by State, local, and Federal agencies, and the private sector for developing and managing our Nation's land and water resources.
Beginning with the 2006 Water Year, the USGS annual Water Resources Data Report has changed from a state-based product to a national report. Individual Site Data Sheets are published using a consistent, web-based search page, map interface, and supporting documentation for the entire country. Site Data Sheets contain all data available for a particular site, including surface-water, ground-water, water-quality, and climatologic data.
Map-based version of the Annual Data Report
Water Data Reports for earlier years

Order USGS maps, products, and publications