---
Project Title: Mercury in Stream Ecosystems
Project Number: NQ00CRN02 - MN 226
Project Chief: Brigham, Mark
Project Start Date: May 2001
Project End Date: September 2012
Cooperator: USGS-NAWQA
List of publications
Main NAWQA Page

---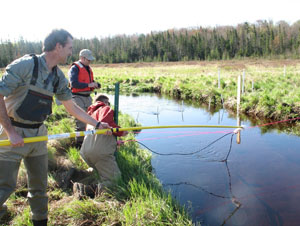 The objective of the study is to determine the effects of source strength, cycling, and food-web interactions (food-web complexity) on bioaccumulation of mercury in fish in stream ecosystems.
Progress during FY11:
The project published four journal articles in professional journals, and one USGS Scientific Investigations Report during FY2011. All project publications are listed at the project web site: http://water.usgs.gov/nawqa/mercury/pubs/. Several foundational Data Series and Scientific Investigations Reports are near completion, and several more interpretive papers are in preparation. The Project Lead collaborated with others on a paper in preparation: "Application and validation of the National Descriptive Model of Mercury in Fish." Numerous team members also presented findings from the New York and South Carolina stream studies at the International Conference on Mercury as a Global Pollutant, and selected other conferences.
Statement of Work FY12:
The team remains focused on data analysis, and writing of new interpretive reports. Several manuscripts should be ready to submit for publication within the first half of FY12. The latter half of FY12 will primarily be used to clean up accepted manuscripts for final publication.