Biological Resources Science Centers near Minnesota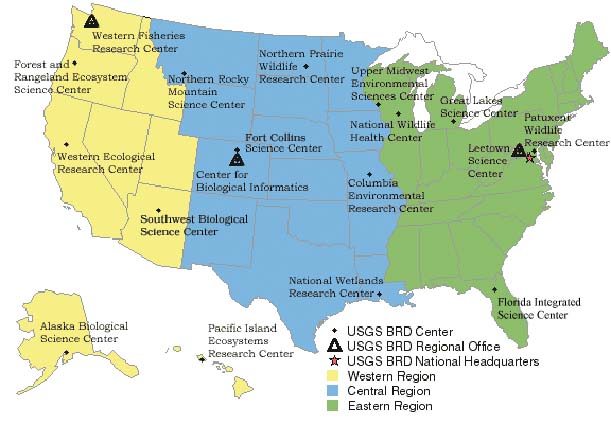 The USGS Biological Resources Discipline has science centers located throughout the United States. Activities are commonly aligned with the diversity of biological resources near each center. Science center researchers represent a broad mix of scientific disciplines. More
Two science centers conduct research in Minnesota.
The Upper Midwest Environmental Science Center (UMESC) in La Crosse, Wisconsin, conducts research in support of Department of the Interior issues and lands in the Upper Midwest. UMESC links its research with other USGS science centers to broadly address ecological and population concerns throughout the Nation's heartland. Research themes of the center are river ecology, restoration of degraded habitats, declining species, invasive species, and decision support model development. Most of its research is conducted in the upper Mississippi River Basin, from St. Louis to Minneapolis, and in the Great Lakes Basin. The Center has established six cooperative state owned and operated field stations in Minnesota, Wisconsin, Iowa, Illinois, and Missouri.
The Northern Prairie Wildlife Science Center in Jamestown, North Dakota, provides the scientific information needed to conserve and manage the nation's biological resources, with an emphasis on the species and ecosystems of the nation's interior. During its almost 40 year history, Northern Prairie Wildlife Research Center scientists earned an international reputation for leadership and expertise on the biology of waterfowl and grassland birds, wetland ecology and classification, mammal behavior and ecology, and grassland management. In addition to the main campus in Jamestown, North Dakota, field stations are found at the University of Minnesota, St. Paul, Minnesota; Mount Rushmore National Monument, South Dakota; and an unmanned station at Woodworth, North Dakota.